ON-DEMAND WEBINAR
10 years of breakthroughs in Organoid Technology: from adult stem cell discovery to changing patients' lives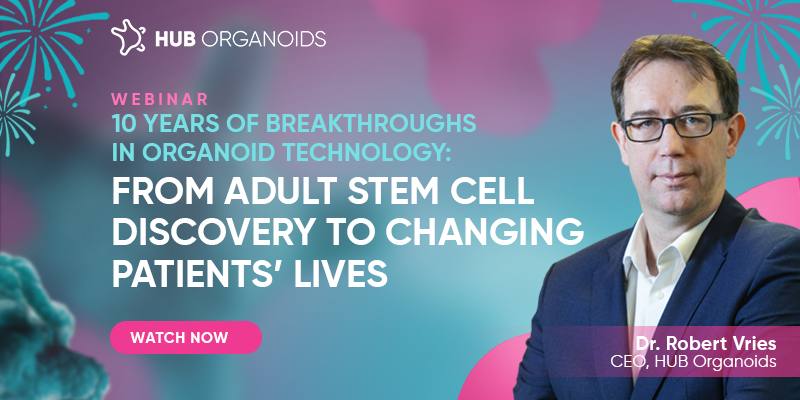 In this webinar Rob Vries, CEO of HUB Organoids will review the history of organoid technology, from the initial organoid models derived from of adult stem cells of the intestine to the most recent technological advances that have facilitated the development of reproducible and robust organoids. These developments have opened up these models to applications such as drug screening, personalized medicine, and tissue regeneration.
What will you learn?
How the discovery of LGR5+ stem cells in the intestine led to the development of the first mini gut in a dish


How stem-cell research has resulted in a variety of biobanks from both normal and disease tissue


How the standardization of patient-derived organoid cultures has enabled higher-throughput drug-screening studies


How patients are currently being treated based on results from organoid testing
Explore our journey so far
2009
First organoid generated from mouse intestine
2011
First human organoid developed from intestinal epithelium
2013
Hubrecht Organoid Technology Foundation was established to upscale and commercialize organoid technology
2015
First cystic fibrosis patient treated based on organoid data
2017
HIT-CF validation trial launched
2018
First oncology clinical candidate entirely developed using organoid screening approved for clinical trials
2022
Expansion of lab facilities
2023
Hubrecht Organoid Technology Organoids becomes HUB Organoids B.V.
Dive deeper into organoid technology
ORGANOID TECHNOLOGY
Single Lgr5 stem cell build crypt-villus structures in vitro without a mescenchymal niche
Nature | May 2009
ONCOLOGY
First clinical candidate developed using HUB Organoids in five years
Case study
ORGANOID TECHNOLOGY
The FDA Modernization Act 2.0: A patient-centric paradigm shift in drug development
Blog