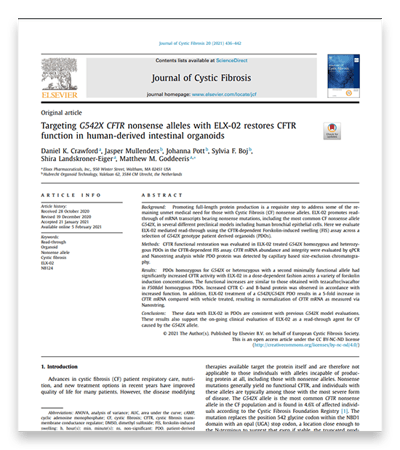 New published data
HUB Organoids® advance treatment for Cystic Fibrosis
Promoting full-length CFTR protein production is a requisite step to address some of the remaining unmet medical need for Cystic Fibrosis (CF) patients carrying the nonsense allele G542X
Read this paper to discover:
How ELX-02 treatment (Eloxx Pharmaceuticals, Inc.) can restore CFTR protein expression in patient-derived organoids
How data obtained using HUB Organoids further supports the on-going clinical evaluation of ELX-02 as a read-through agent for CF caused by the G542X allele.
FIS assay
Quantify Cystic Fibrosis Transmembrane Conductance Regulator (CFTR) protein activity for the evaluation of new treatment strategies.
read more
Discover our CF biobank
More than 700 organoid models from rectal biopsies of CF patients and representing more than 100 clinically-relevant mutations.
discover our biobank
Drug screening services
HUB Organoids preserve disease-specific mutations and can be used in drug screens to predict patient response in the clinic.
design your screen
test